Winnebago Hire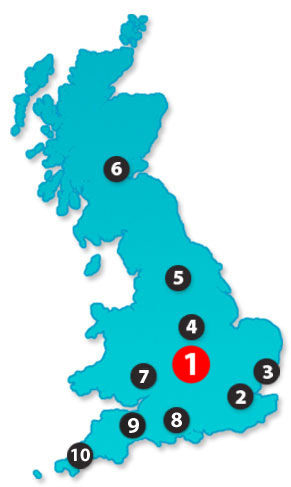 Winnebago DIRECT is the ultimate portal for American motorhome rentals, listing only the very best companies in the UK for Winnebago rental, American motorhome hire and RV rental. We have personally selected a range of companies all over the country and each one has been handpicked for their high quality Winnebagos, their customer service and their superb value for money. Our combined fleets of American motorhomes boast over 100 RVs, each with their own characteristics and perks, and each readily available to you at the drop of a hat. All our associates and partners cover the UK and mainland Europe.

Through Winnebago DIRECT you can hire great RVs for anything you have in mind. Planning a party with some friends? Need to get away from the hustle and bustle of daily life for a few days? Or maybe you want to enjoy a music festival in style? Whether you're going to the races or simply want to avoid jumping through hoops and avoid the hassle of having to pack suitcases and book hotels, we're here to help make your RV experience perfect and unforgettable.

Our quality Winnebago motorhomes all come fully equipped, including a special selection which have been converted for specific purposes. Whether you need a state-of-the-art entertainment system or great cooking amenities to entertain a large party of guests, we have what you need. If you really value spacious living quarters, we have amazing motorhomes with telescopic slide-out sides. If you value plush and tasteful interiors, our fleets include many RVs which will match your wildest expectations. If you're planning a corporate retreat, we have motorhomes with luxurious boardrooms. If you're planning on attending an event for more than just a few days, many of our models come with extensive storage capabilities and powerful generators. We strongly believe that our customers' satisfaction comes first and foremost, which is why all our vehicles are serviced regularly and maintained to the highest standards in the industry. All of the 100 and more available Winnebagos include delivery to your location and collection following the rental period. We have motorhome rentals available for:
Corporate Winnebago hire
RV rental for all UK festivals such as Glastonbury & V festival
Motorhome hire for film and television crews
Winnebago rentals for the UK & Europe racing circuit
American motorhome hire for Events and hospitality
With offices covering the length and breadth of the country, Winnebago DIRECT brings you the best American motorhomes at the very best prices. Wherever you are in the UK, there is bound to be an office near you, making it ever so easy to book your selection, and have it delivered and collected. Let us help you do away with logistical challenges and make your life a little bit easier.

Please visit our partners' websites for specific rates and to see a selection of motorhome hire availabilities. Our partners sales teams are here to help you make the right choices, so don't hesitate to get in touch.